Showcase
Thanks to all the students who submitted work this semester! Explore their work by scrolling through the post or jumping to specific student's work via these links:
Sarah Shaw, Genus Griggs, Angelica Barbosa, Joseph Poselenzny, Charles Fatuki, Five Verrier, Bayan Jarad, Marco D'Andrea, Shelby Lerner, Michael Rivera, Juliette Castillo, Abbygayle Schlappi, Mia Frazier, Michael Konyar, Daria Boudreau, Ezekiel Pearson, Alessandra Rangel, Harmoni Hawthorne, Peyton Flores, De Andre Tucker, Devin Vahl, Rebecca Chu, Polina Solomakhina, Rhona Jessica Filgueras, Quinn Shaffer, Andrew Sykora, Hailey DeWitt, Dana Fretty, Jack Tenbusch, Alyssa Hunt, Veronica Morrissette, Sebastian Pedersen, Jake Hoekstra, Fatima Moshaymesh, Max Garay, Evy Avila, Anna Bachmann, Casey Jarmes, Rachel Wisniewski, Trang Nguyen, Nurrah Muhammad, Jennica Yvonne Hontiveros
Sarah Shaw, Introduction to Traditional Animation
I did this animation for a class assignment, we had to do a metamorphosis and morph one object into another. I'm not quite sure why I chose a ghost and a cupcake, I think it was because we did this project around Halloween! This was different than the previous projects we did but it was a nice change and a good challenge for me.
See more here.
Isaiah Griggs, ANIM 330
This part of a larger piece I intend to keep working on in the future. It follows my two main characters; it will contrast their personalities while showing how they both struggle with mental health in their own way. I was inspired by the song lyrics and the quarantine situation.
See more here.
Angelica Barbosa, Cartooning
This is a two page comic I made for my Cartooning class. The story consists of my original characters, Emile and May, who are celebrating Emile's birthday but Emile is an unhappy child while May is the opposite. May tries to cheer up her brother but he is still not happy. Then, after Emile finds some joy in a slice of cake, May snatches it away and Emile is back to square one.
See more here.
Joseph Poselenzny, GAME 345 Advanced Game Scripting and Environments
This is a game that I made this past semester. I wanted to take another stab at creating a 2D game. This one specifically is similar to the classic 2D action-adventures like Legend of Zelda, which I think are a somewhat missing niche in the modern game market. And it's cute!
See more here.
Charles Fatuki, Animation Solo Project
The story is of a poor goblin who is about to be evicted and has to come up with an idea to make some money. This film is my Solo Production project. I directed, wrote, storyboarded, and animated the whole film using Adobe After Effects.
See more here.
Five Verrier, Digital Animation Techniques: Ink Paint & Composite (ANIM 330-01) with Jason Hopkins
Ardie is a determined little dog who comes across a particularly unwelcome house guest one evening. This project is a piece of traditional animation and is my final for my Digital Animation Techniques class.
See more here.
Bayan Jarad, Drawing for Animation 2
The final assignment for Drawing for Animation 2 was animating dialogue, so I recorded a conversation with my sisters and this piece was born.
See more here.
Nic D'Andrea, Animation Solo Project
Starting her new job making sandwiches, Clarice's nerves get the better of her as her first customer comes in. I have wanted to practice using paper cutout animation for a while now, and I thought that the solo project was a good place to test that. Also, who can't relate to being nervous on your first day of a new job?
See more here.
Shelby Lerner and Casey Stone, Animation Solo Project
My Alien Baby is a 2D animated short film about learning to deal with issues in life, and how instead of pushing them away, we can try and make the best of the situation. I made this film to show that some things can't just be put on a bus and shipped away! It started as a comic and then as an animatic and I'm so happy that it is completed and I can show it to the world!
See more here.
Michael Rivera, Digital Animation Techniques 2D Trends
A short story of two sisters who are trying their best to reverse the curse that has been put on them. Rosalin the older sister attempts to turn her sister back to human as she has been cursed to look like a deer. I made this film for my class Digital Animation Techniques 2D Trends, using my own original characters.
See more here.
Juliette Castillo, Digital Animation Techniques Current 2D Trends
Lesley is taking a hike on the snowy mountains. While trying to take pictures of the scenery she is interrupted by a hungry goat. The goat was annoying when hungry but is chaotic when eating. The goat burps so loud it cause an avalanche that buries them.
See more here.
Personal project, Digital Animation Techniques Current Trends
This is a short project I made for class. It was just a random idea I had of something I could get done within the semester. I want to continue work on this small film in the future.
See more here.
Mia Frazier, Digital Animation Techniques Current 2D Trends
Here's my final for my animated 2D trends course! This animated short follows the story of a girl who's training to me the next Jujutsu Cake Master. As someone who likes baking, I thought it'd be fun to make a short about it, but with a little spice added in.
See more here.
Michael Konyar, Storyboarding, PreProduction, and Solo
Luis Contreas gave me an assignment to make a storyboard that matched the beats of the music, so I looked to Looney Tunes for inspiration. It was incredibly fun to work on, and I even recollect staying up all night when my mother came expressing concerns my sanity. I told her, "if I finish this, it will be one of the best art pieces I ever made." After coming back after summer, Luis Contreas passed away, and there wasn't really anything I could do to express my gratitude to him. When Preproduction asked for a solo idea for me to do, there was only one idea I had in mind..,
See more here.
Daria Boudreau, Illustration: Concept Art
This is a 2D illustration that I created for a concept art class. The goal was to have several characters interacting with each other in a single environment. The characters and environment are all original concepts created by me.
See more here.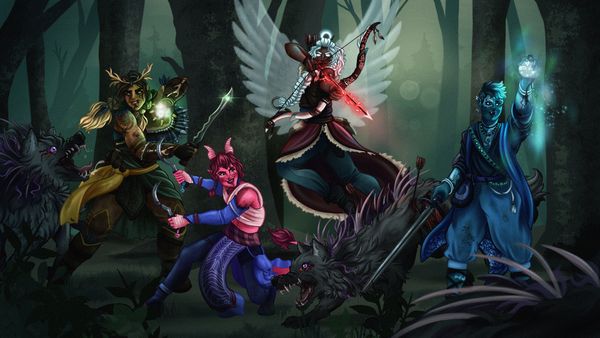 Ezekiel Pearson, Computer Animation: Modeling
This is a Character model I've been working on for my computer model class, I used an online reference to help me figure out what im making. I choose this robot because it reminded me of a robot I played with as a kid that made me want to try making it. the only problem i had it this was the texturing because for some reason it kept moving out of places and not stay solid.
See more here.
My name, Alessandra Rangel, Digital Animation Techniques: Current 2D Trends
It's a short animation about a woman who is stalked by a creep and is caught, however, she is no fool. I made this for not just my Animation class assignment but it was an idea I had for some time. I wanted to use my already made characters and create a story for them. Be able to animate them with the techniques I learn throughout the course. I enjoyed it and it was a great experience for me.
Harmoni Hawthorne, Computer Modeling Animation
This my first character model created. This is a knight cosplay costume and it shows as the color like someone painted it with regular paint and it gives a vibe where the person is a huge fan of Medieval stuff.
Peyton Flores, Advanced 3D for Games FA20
I designed this helmet in my 3D modeling class. We studied the proper pipeline for creating objects in games. I learned and worked on programs I did not use very. much before bringing my image to life.
See more here.
Deandre Tucker, 2D Art for Games
For my 2D class we had to make a character that would fit the style of fortnite and or overwatch and I figured this suited both styles in a way.
See more here.
Devin Vahl, Compositing 1
I made this as my final project for my CVFX Compositing 1 course. I was in a Star Wars mood, so I decided to add as many things from Star Wars as I possibly could to a video of Chicago that I took down by the lake. It's maybe not as clean as I would have liked because I ran into a lot of unexpected trouble, but I'm very happy with how it turned out, considering all those problems I didn't plan on.
See more here.
Rebecca Chu, Digital Animation Techniques: Ink, Paint and Composite (with Jason Hopkins)
A short 40 second story about a guy messing around with inter-dimensional travel. As a result he accidently creating a cult in another universe. This was my final project for my Ink, Paint and Composite class.
See more here.
Polina Solomakhina
This was a work for the CCCAnimation contest. They had teamed up with CCCAudio Drama and provided audio pieces to make animation for. You had to choose a piece and make an animation around 6-10 sec.
See more here.
Final project for Fundamentals of Interaction with Professor Joshua Fisher., INMD 102 – Fundamentals of Interaction
It is an interactive prototype made for a hypothetical mobile 3D printing robot. I was thinking about how it would be nice to not cook for myself and not having to order out to eat, but instead, have a printer that could go to me after it is done making a meal that I asked it to make. I created this project as my Final for my Fundamentals of Interactions class.
See more here.
Quinn Shaffer, Simulation and Serious Games
A simulated underwater ecosystem, inspired by a coral reef. Various fish swim around, some avoiding the players, others intrigued by them. Octopi wander slowly around until they are spooked, at which point they zoom off with a burst of speed. Worms hide underground, poking there heads up every so often to look around, though never when the player is nearby.
See more here.
Andrew Sykora, Anim-330 Digital Animation Techniques: Ink Paint & Composite FA20 with Jason Hopkins
This work is a short animation of a fella named Nathan making his favorite meal, a grilled cheese. The animation might supposed to end with Nathan face planting and grilled cheese flying everywhere, but unfortunately this was cut due to time. Now Nathan makes his wonderful sandwich without a care in the world, and a happy ending is seen for all.
See more here.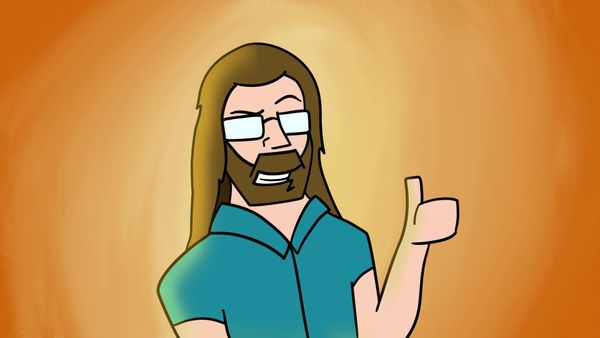 Hailey DeWitt, ANIM 330
My piece is an animated scene to audio from Scott Pilgrim. The scene is a comedic dialogue between two characters. The piece was my final project in ANIM-330 and was all created in ToonBoom Harmony.
See more here.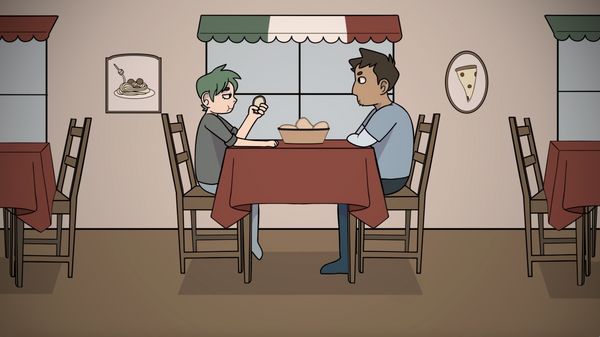 Dana Fretty, Digital Ink & Paint ANIM 330
A beautiful and climactic segment of 'Diamond Wing's Splendiferous Cirque de Flea', featuring everyone's favorite Spiderman! Is it a bootleg? Is it an underground pill pushing how-to? Is it a panic attack masked as a cartoon? Find out in 2021's Diamond Wing's Splendiferous Cirque de Flea!
Jack Tenbusch
SymBionic is my upcoming Solo film about a bird who escapes deforestation to form an unlikely bond with a machine. This preview is the first fully animated 30 seconds of the film which I'm working to finish the rest of for next year's manifest, and I'm hoping to gain interest with this teaser! I've had this concept since arriving to the college and am excited to finally bring it to fully produced fruition.

Kindness can occur where we least expect it, as can empathy between individuals who appear completely different but share similar wounds and will for freedom. SymBionic is, as the title suggests, about the partnership that occurs when two who were wronged work together to make a right.
Peggy Hunt, Acting for animators
This is an animatic about a Frankenstein clown girl named Cleotha. She learns to accept who she is and not who she used to be.
See more here.
Veronica Morrissette, GAME 201
This is an interior design of my room with a bit of a twist. For GAME 201's Grey Box Interior assignment, I decided to model my interior after my room because I wanted to create a room that I was familiar with. I also chose my room because everyone who's been in it calls it "goals"/"weeb heaven".
Sebastian Pedersen, Advanced Game Scripting
This game is a short, 2D platformer with three levels. The player has a limited amount of swords (they can pickup more) that they are able to throw at enemies that they come across on their adventure. Watch out though! The player is not the only one who can throw their swords…
See more here.
Jake Hoekstra, Computer Animation: 3D Modeling
A fantasy dungeon lit by torchlight and bioluminescent mushrooms. Modeling was done in Maya and the textures were made in Photoshop. I made this for a class project.
See more here.
Fatima Moshaymesh, Anim 351-01 Environmental Modeling
A small 3d village I made in my environmental modeling class.
Max Garay, GAME 336-01: Game Design II
"Outpost Zeta" is a singleplayer map/level for the 1996 first-person shooter (FPS) video game, "Quake". Made as an exercise in FPS level design, this level sees the player infiltrate an enemy military base in the hopes of shutting down the enemy's sinister Supersoldier program (this rudimentary narrative has nothing to do with that of the original "Quake"). The level consists of 7 distinct areas and most players will probably be able to complete it in under 10 minutes.
See more here.
Evy Avila, Intro to Programming
You are about to enter a music competition and have five days to prepare. You must balance your time with practicing and maintaining good health. Will you win this music competition or will you stop making music forever?

Before entering Columbia, I studied music and have been playing the saxophone for nine years. I wanted to create a game where someone has to evaluate their decisions based on the situation so they may win the music competition.
See more here.
With was a solo animatic made by me, Anna Bachmann. The only thing isn't mine is the uncopyrighted music from the Youtube audio library by Steve Adams., Acting For Animation 311-01 Cheryl Graeff
In Bloom is an animatic about a young lady with roses for hair that bloom, bud, and wilt according to her emotions. Specifically, a rose lady and her relationships with post-religious guilt while trying to maintain her current relationship with her girlfriend in a small religious town. Throughout the animatic, we see the ebb and flow of their emotions and relationship as they try to have a date.
See more here.
Casey Jarmes, Game Design II
Screenshots of a custom Quake level created using the program Trenchbroom. This level has the player travel through dark sewers to eventually uncover a large temple guarded by a mysterious cult. Also, the cult worships clowns.
See more here.
Rachel Wisniewski, Computer Animation: Keyframing II
This work is a basic body mechanic shot with a character climbing onto a box. It was created with Maya using the Mery rig. I made this as part of an assignment for one of my classes.
See more here.
Trang Nguyen, 2D Art for Games
This piece was made for a class called 2D Art for Games where the prompt was to make candy breakfast monsters inspired by Poked Studio and to replicate the style. I chose three breakfast items to make into characters and gave them characteristics that are often seen in Poked Studio's work such as the long thin arms and different eye shapes. It was my first time painting digitally so I had to learn how to use Photoshop and a pen tablet while working on this project. After completing the project, I felt proud that I made something that I can be proud of especially since it was my first time and it makes me want to continue to become better at digital art.
See more here.
Nurrah Muhammad, Introduction to Traditional Animation
This animation was made as a final project for my Intro to Traditional Animation class. It's inspired by a story I'm currently working on that I'm really excited about.
See more here.
Jennica Yvonne Hontiveros, Fundamentals of Interaction – Dr. Joshua Fisher
As consumers of the web, we tend to take a lot of content at face-value, regardless of it's truthfulness. In result, it can be very frustrating to distinguish between what is credible, sketchy, or flat out incorrect. CHEQ is a browser extension that eliminates the redundancy of searching and scanning for websites with reliable content.